Or if you wish to donate to this worthy cause please
click here
.
---
​Karen Fenton Memorial Run 2021
Unfortunately due to Covid we were unable to host the 'Karen Fenton Memorial Run' in 2020. But we are hoping for a fantastic event next April 18th, 2021.
Please join us for this annual 5km run hosted by the Karen Fenton Ovarian Cancer Fund 18th of April at 12.30pm in Ballinora, Waterfall.
The Karen Fenton Memorial Run is a 5km road race, which is being organised and hosted by the Fenton Family, in association with St Finbarr's AC, in memory of Karen Fenton, who passed away from Ovarian Cancer, on the 30th of April 2017, aged 43.

This is the third of a very popular annual event (2020 event excluded due to Covid-19) that attracts great community support and involvement from Ballinora community and beyond.
---
---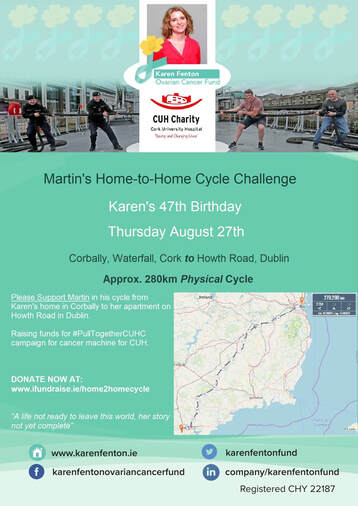 ​Martin Fenton's Home-to-Home Cycle Challenge
Martin completed the Karen Fenton cycle challenge from Cork (Karen's home) to Dublin (Howth Road, where Karen lived before taking ill) on August 26th, 2020. Karen was due to turn 47 on August 27th so would have been an apt date for the cycle. However, it was brought forward by a day given poor weather forecast on Thursday 27th.
This was a tough 278km cycle, time on the bike was 10hrs 40minutes. It was an early start for Martin setting out before 6.30am with arrival on Howth Road in Dublin at 7.50pm.
It was a significant challenge but all worth it as we continue to raise funds for a state of the art cancer sequencing machine for CUH that will be purchased in Karen's name and will leave lasting legacy for cancer patients in Cork and wider Munster region.
Thanks for your support.
---
---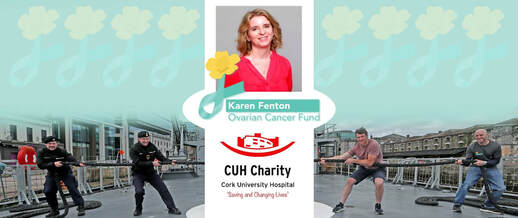 #PullTogetherCUHC Campaign - Thank You!
Well done and thanks to everyone who has been so supportive of our fundraising efforts working closely with CUHC. We have helped CUHC to now raise
an additional ~€283k
(See
https://www.idonate.ie/CUHCCancerCampaign
) so far which along with the original
€80k
from our fund and the
€100k
from CUHC gives a grand total of
€463k
for this vital purchase.
​Great work, well done and thanks to all! #PullTogetherCUHC!
Some highlights of the fundraising campaign since the launch event with Munster and Ireland rugby legend and CUH Charity Ambassador Peter O'Mahony (
scroll for info and photos
) on World Ovarian Cancer Day on May 8th are listed below.
Peter O'Mahony spoke to Dave Mac about this campaign on Red FM's Local Legend on Monday May 18th. You can listen back
here
.
The Fenton Family and Karen Fenton Ovarian Cancer Fund are proud to have been mentioned in an RTE news bulletin about the "Everest" Challenge and these efforts to raise the funds for the cancer sequencing machine. Dr. Seamus O'Reilly specifically called out to the importance of our efforts in providing the
"seed"
for this campaign and the purchase of the machine. Along with the €75k we are putting towards the purchase we will be proud of Karen's lasting legacy with her name to be associated with this important machine.
---
RTE.ie features an article for more info.
RTE New Bulletin on Saturday May 30th - "Everest" Challenge and Karen Fenton Ovarian Cancer Fund
---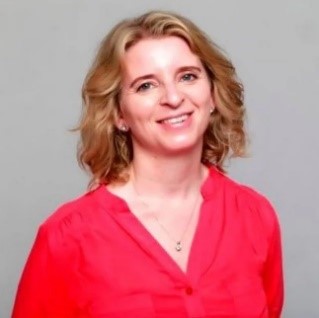 ​​Fundraising for Cancer Sequencing Machine
Our fundraising efforts are focused on the goal of purchasing the
"Ion Torrent Genexus Integrated Sequener"
machine, a new innovative machine currently unavailable to cancer patients in Cork. The machine will be located in CUH, where Karen spent her final two months, under the expert guidance of Medical Oncologist Dr. Dearbhaile Collins and
Clinical Director for Cancer Services, Dr. Richard Bambury
. Dr. Collins specialises in gynaecological malignancies, including Ovarian Cancer. This state of the art technology will analyse cancer mutations and find new
"precise"
treatments for patients.

We have already raised over
€75,000
for this critical technology. We need your help urgently on the final drive to raise the remaining funds for this machine.

On 8th May, World Ovarian Cancer Day 2020, the Karen Fenton Ovarian Cancer Fund and Fenton family launched their support for CUH Charity to raise remaining funds. The Fenton family and CUH Charity's Ambassador, Peter O'Mahony, attended a socially distant launch event overseen by the Irish Naval Service on board the L.E. Eithne docked at Albert Quay in Cork.

​Peter O'Mahony, Martin Fenton and members of the Irish Naval Service are pictured pulling together against cancer for funds for this much needed equipment for CUH. The ground-breaking technology which will significantly advance cancer testing, enabling patients to commence their highly targeted therapies and clinical trials earlier. The technology will have immense potential to improve cancer patient quality of life and survival.
---
Pulling together against cancer: Rugby star and CUH Charity's Ambassador Peter O'Mahony, Martin Fenton, Clinical Director for Cancer Services at CUH Dr. Richard Bambury and members of the Irish Naval Service pull together on board the L.E. Eithne in Cork harbour
Please support this worthy cause and help us realise this ambition for our local Cork hospital.
Donate Now
"A life not ready to leave this world, her story not yet complete"
Fenton family pictured with Peter O'Mahony at the launch of the CUH fundraising campaign on 8th May, WOCD 2020
Launch Event
on WOCD May 8th #PullTogetherCUHC
---

​According to Clinical Director for Cancer Services, Dr. Richard Bambury, growth in cancer rates will continue to rise, as the population lives longer, and as new cancers continue to emerge.

"CUH has seen 200 new patients in radiotherapy and 50 patients in chemotherapy in the last six weeks alone, demonstrating the seriousness of the situation and the necessity to provide a quick turnaround and halt progression of cancers. This is where this vital piece of equipment, the Ion Torrent Genexus Integrated Sequencer technology will enable consultants to accurately test multiple cancer genes in a single specimen (tissue or blood test). This test negates the need to rely on single-gene tests, which yield more limited information. Through the use of the new technology, clinicians can get same day results (tests are currently taking approximately two weeks to come back from referral labs in Dublin or the UK), quickly select the treatments most likely to benefit individual patients, uncover novel treatment options and identify clinical trial possibilities for those with cancer and it will be less likely that older forms of chemotherapy will be needed. Saving lives is at the core of what we do, and the added advantage of valuable research gleaned through this world-class sequencer, working with University College Cork, will undoubtedly be hugely significant for future generations." Dr. Bambury said.

"It is imperative that we have the latest and best technology to enable us to deliver the best and most accurate course of treatments for our patients in Munster. We are certainly getting better at dealing with cancer but we need to have every possible effective tool at our disposal to bring our service in line with the goals of the National Cancer Strategy 2017-2026, which aspires to ensure that all patients who need a particular molecular test will have that test performed at the appropriate time and on the appropriate tissue sample".

---
"Cancer now affects 1 in 2 of us so it is rare that all our lives have not been touched by cancer in one shape or form, either through loved ones or friends that have been affected or by a personal experience of cancer"
Dr. Dearbhaile Collins and Dr. Richard Bambury have provided the following video explaining the importance of this cancer sequencing machine for CUH:
---
Peter O'Mahony is asking people to come up with creative fundraising ideas for their social media fundraising campaign, have a bit of fun with it, and when they donate, they set themselves a challenge enabling friends, families, communities and companies to pull together to improve cancer services for future generations. It could be a sporting, art or household challenge (anything at all - run around your garden, a Zoom party, a 5k walk, shave your head, a virtual tractor run!) to raise awareness and fundraising for this worthy initiative.
"Donate on idonate, do your challenge and tag as many friends as you would like to challenge using #PullTogetherCUHC and tagging 'Cork University Hospital Charity' on Facebook and @CUHCharity on Twitter, and let's all pull together against cancer!"
O'Mahony concludes.
Listen to Peter O'Mahony interview on Red FM's Local Legend with Dave Mac here.
To donate to this urgent fundraising campaign, follow the idonate link at:
www.idonate.ie/CUHCCancerCampaign
Alternatively, if you have a fundraising idea or wish to make a private donation, call 021 4234529 or email info@cuhcharity.ie.
---
| | |
| --- | --- |
| | ​The Ion Torrent Genexus Integrated Sequencer is the only turnkey NGS solution that automates the specimen-to-report workflow and can deliver results in a single day. The introduction of the Oncomine Precision Assay for NGS on the Genexus will significantly improve the current service available to clinicians and patients in the region. This test features carefully curated biomarker content spanning 50 genes based on the latest therapy developments, medical guidelines and clinical trials. |
---
---