---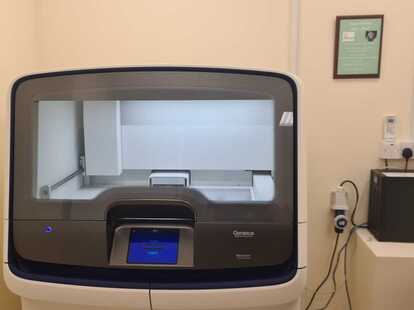 ​
Cancer Sequencing Machine Purchase
The Fenton Family and Karen Fenton Ovarican Cancer Fund donated the significant amount of €80,000 to Cork University Hospital Charity for the purchase of the
Ion Torrent Genexus next generation sequencer for Cork University Hospital
in summer 2021.
Thanks to everyone who has supported and continues to support our fundraising efforts.
Unfortunately due to Covid restrictions we were unable to visit the hospital and see the machine until summer 2022. At this point the machine had been in use for quite some months and it was great to finally see and hear about some of the real tangible benefits of our fundraising efforts since Karen passed away in April, 2017. We are sure that Karen would be so pleased and proud to see such benefits and it was especially poignant to mark the purchase on what would have been Karen's 49th birthday.
One of the key benefits highlighted is the time saved in analysing cancer mutations. The medical team at CUH will now have results within 24 hours of sample preparation which will allow the lab time to review and prepare a report for doctors before the patient appointment and thus help to prescribe more targeted and precise treatments. Previously it would have been 3 to 6 weeks to get similar results from Dublin or UK.
The machine is mainly used for lung cancer at the moment given the accuracy in determination of treatments based on the different mutations. But it is used for others also and the medical team will continue to expand use. Dr. Dearbhaile Collins now chairs the National Mutation Tumour board so there are great intangible benefits of the donation and this purchase will continue to help with research and better understanding of how to handle mutations where treatment is not known yet.
Please see below note from Réiltín Werner (Chief Medical Scientist, Histopathology CUH) highlighting some of the benefit of the machine.
---
---
We are so grateful to the CUH Charity, the Fenton family, and other generous donors, to have an accredited NGS service up and running here in CUH with the Ion Torrent Genexus next generation sequencer.

We are acutely aware how a diagnosis of cancer is a worrying and often life changing experience for patients and their families so this is a significant development for cancer patients in the region and an important milestone too for CUH Pathology.

To critically enhance cancer services at CUH we need this technology to test for multiple genetic abnormalities in each cancer specimen at the same time, and this can now be achieved in house via Next Generation Sequencing (NGS). The laboratory in CUH is now in a position to create a comprehensive molecular profile of a tumour from each individual patient and guide the Oncologist's decision in their development of a truly personalised targeted approach for their individual cancer therapy.

The Ion Torrent Genexus Integrated Sequencer is the first Next Generation Sequencer that automates the entire specimen to report workflow within a single day, replacing the average turnaround time presently for this testing of over 3 weeks when it is outsourced. This faster turnaround by reducing the agonising wait time for cancer patients and their families across Munster will undoubtedly have huge benefits.

Having this technology to analyse for these cancer mutations is a hugely valuable clinical and research resource, enhancing our strong links with our academic partners and collaborators UCC, MTU & clinical trials Ireland and will allow ground-breaking research as well as having the immense potential to improve cancer patient quality of life and survival including options for participation in clinical trials.

Kind regards,
Réiltín
---
---
| | |
| --- | --- |
| | ​The Ion Torrent Genexus Integrated Sequencer is the only turnkey NGS solution that automates the specimen-to-report workflow and can deliver results in a single day. The introduction of the Oncomine Precision Assay for NGS on the Genexus will significantly improve the current service available to clinicians and patients in the region. This test features carefully curated biomarker content spanning 50 genes based on the latest therapy developments, medical guidelines and clinical trials. |
---
---