---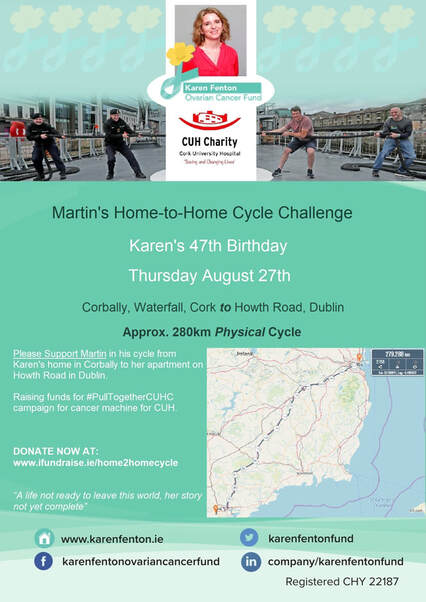 ​Martin Fenton's Home-to-Home Cycle Challenge
​
Martin completed the Karen Fenton cycle challenge from Cork (Karen's home) to Dublin (Howth Road, where Karen lived before taking ill) on August 26th, 2020. Karen was due to turn 47 on August 27th so would have been an apt date for the cycle. However, it was brought forward by a day given poor weather forecast on Thursday 27th.
This was a tough 278km cycle, time on the bike was 10hrs 40minutes. It was an early start for Martin setting out before 6.30am with arrival on Howth Road in Dublin at 7.50pm.
It was a significant challenge but all worth it as we continue to raise funds for a state of the art cancer sequencing machine for CUH that will be purchased in Karen's name and will leave lasting legacy for cancer patients in Cork and wider Munster region.
Thanks to everyone for your support!
---
​The ride started at 6:24am and Martin cycled through Cork city center, down the Lower Glanmire Road, through Glanmire and then followed the old Dublin Road as far as Naas.

​Martin had the company of Cork's Red FM as far as Urlingford. Martin's parents and brother Micheal travelled in a support car. At Urlingford Micheal joined Martin for 60km with Martin's friend Ronnie accompanying him for the last ~70km from Monasterevin. At Naas Martin took a route north through Kildare to avoid the main M7.

The cycle finished at 150 Howth Road at 7:50pm with a well earned cold beer!

Photos are included in the gallery below.

Donate now here

and support Martin in this challenge and special cause.
---
Please support this worthy cause and help us realise this ambition for our local Cork hospital.
Donate Now
"A life not ready to leave this world, her story not yet complete"
Home-to-Home Cycle Challenge Gallery
Some great photos of Martin's cycle challenge from Cork to Dublin - August 26th, 2020
---
---
---